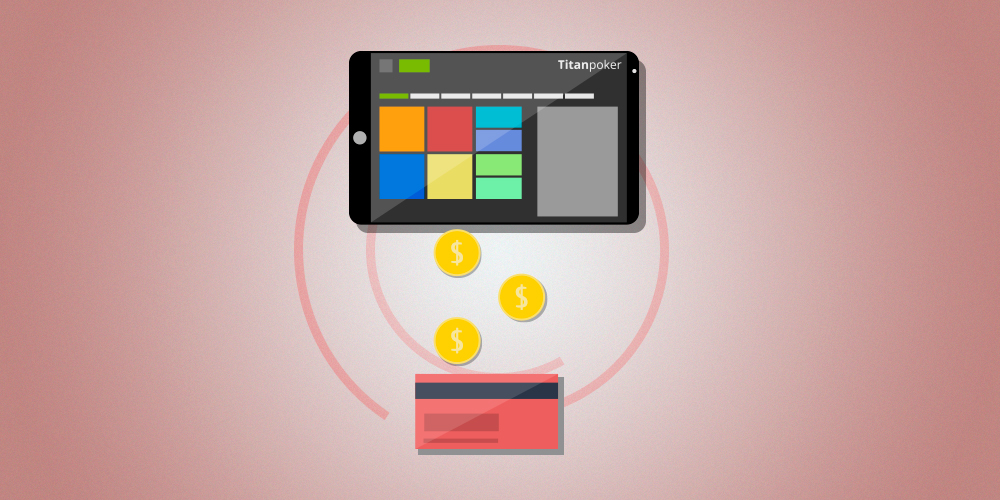 If you play successfully at Titan Poker, you will need to withdraw money from the game balance sooner or later. Of course, you always need to have a sufficiently large bankroll on your account, because if you withdraw too much money, you won't be able to play at high stakes. But you need to cash out your hard-earned money, and we will tell you how.
How to withdraw money from Titan Poker – instructions
At Titan Poker, the withdrawal rules are not difficult for the user. You will need to choose a convenient payment method, the commission and the speed of which you are comfortable with. We list the available methods below.
Also, at Titan Poker, withdrawals are prohibited for players who do not pass identity verification. For this purpose, scans of identification documents should be sent to technical support.
Now let's move on to the instructions at Titan Poker – how to withdraw money:
Check if there is a minimum cash withdrawal amount on the game account. For Titan Poker it's $ 20.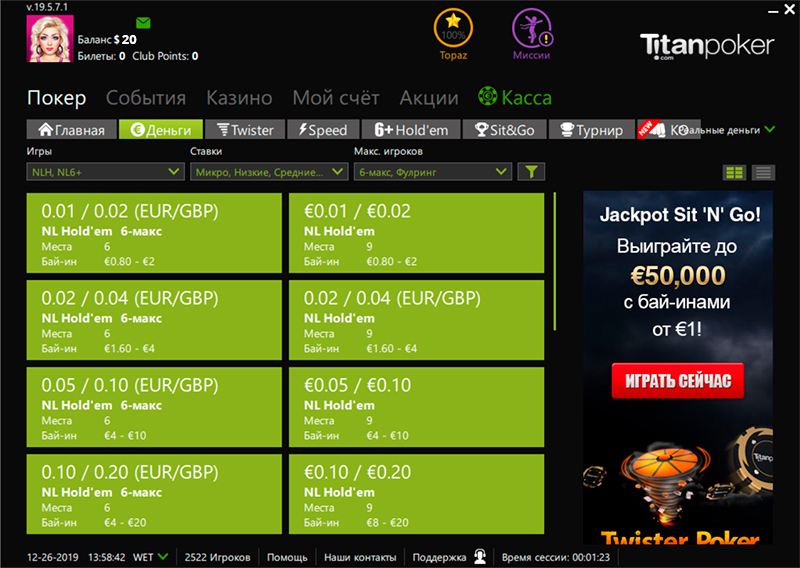 Log in through the game client using your credentials.
Click on the "Cashier" button in the customer lobby.
In the window that opens, select the "Withdraw funds" button, then enter the desired amount and click on the yellow "Withdraw funds" button below.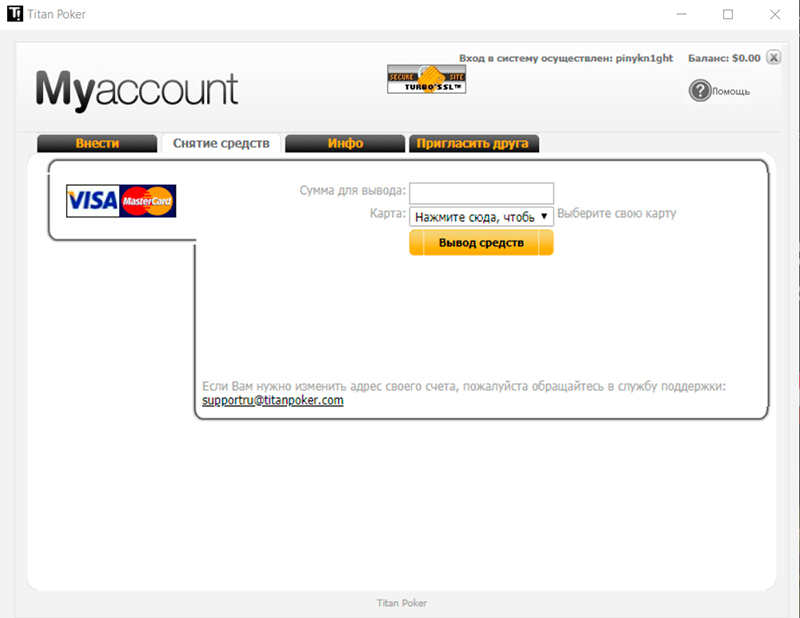 This is the end of the process. After receiving confirmation, you just have to wait for the receipt of funds.
However, users often have a question regarding Titan Poker: how to withdraw money if access to the site is blocked? And this happens often, because in many countries, access to sites with gambling is blocked, which makes it impossible to download software for the game and financial transactions.
In this case, you can use one of the workarounds:
Mirror site. This is the name of the copy of the main resource, which offers users the same range of features, but at the same time can remain out of locks for a long time due to its location under a different domain name. Of course, over time, each mirror will also be subject to restrictions, but this is not a quick process, so you will have time to download the client. In addition, after blocking some mirrors, new ones will soon be created.
VPN. These are free and paid services that replace a real IP with another one connected to a server from a country where there is no ban on access to Titan Poker. n other words, traffic is not transmitted directly, but indirectly, passing through a remote proxy server. It is worth considering that free VPNs can reduce the speed of traffic transfer and offer a limited list of proxies to choose from.
Browser settings. Some browsers, for example, TOR, offer built-in functionality for downloading sites via remote servers. The principle of operation here is similar to VPN. Another alternative could be anonymizers.
Now back to our main topic – how to withdraw money from Titan Poker.
Payment systems
The room offers the following payment methods to choose from:
Entropay.
Neteller.
Moneta.
WebMoney.
Skrill.
VISA.
If you want to withdraw funds to the Qiwi wallet, the only option is to use QIWI VISA Virtual.
Please note that a cashout will be successful only if you replenish the account in the same way.
Please note: the room does not charge a withdrawal fee, however, the payment system of your choice can do this. We recommend that you familiarize yourself with the conditions and fees of the selected payment method.
If the withdrawal of funds at Titan Poker causes any difficulties, you can always contact support for advice. The local support service is one of the best today, it is available almost around the clock, and you can get in touch with employees not only by mail and online chat, but also by phone.
Questions and answers about depositing / withdrawing money at the Titan Poker room
How to deposit?
In the "Cashier" section of the Titan Poker game client, access to which is provided by a button in the lower right corner of the lobby, the user can replenish his account using any of the available deposit methods.
How are funds withdrawn from my account?
In the section of the game client of the Titan Poker poker room "Cash desk", withdrawal of funds from the account is available in any way convenient for the user, as well as information on existing restrictions.